Replacement Filters
ICAN™ Project Photos:
Mist collector filters.
After-filters for paper dust.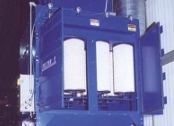 Cartridge filters in dust collector.
Mist collector filter.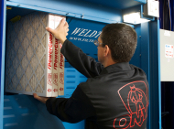 Panel filters for school welding station.
Application photos are used by permission of members of the Industrial Clean Air Network and are copyrighted by their respective owners. All rights reserved.
Every member of the Industrial Clean Air Network offers replacement filters for most brands of industrial dust collectors and air cleaners, including the major name brands listed below. Most replacement filters are carried in stock or can be drop-shipped directly.
In addition, each regional air specialist is a full-service distributor with technicians experienced in maintaining most types of dust collectors and air cleaners, including all types of filter replacements, and can provide needed field service. If you have any questions about filter or media selection for your equipment, please feel free to ask your ICAN air specialist.
Types of Filters
Cartridge Filters. Cartridge filters are used in many types of dust collectors and some air cleaners; they are excellent for fine, dry dust that is able to be cleaned from narrow pleats. Typical applications include: food and pharmaceutical dust and powders, product finishing (sanding, grinding, cutting, media/bead blasting) of composites, wood finishing operations, marble & granite fabrication. Loading: from light to heavy.
Air Cleaner Filters. Filters for ambient air cleaners have high efficiency media for airborne dust (smoke & fume) from manufacturing processes, including welding, sanding, grinding. Loading: light.
Bag Filters. Filters for bag house dust collectors are generally designed to fit on metal cages and they load on the outside. Bag filters collect fine to coarse dust, including stringy, chunky, or sticky dust. With a broad range of applications, including sanding, chipping, planing, bailing, processing, blasting or cutting of wood, metal, plastic, paper, or composites, there is more media available for bag configurations than most any other type filter. Media can be divided into felt and woven, of various type fibers, including polyester, acrylic, cotton, PPS, and P84. Specialized media includes PTFE (Teflon), which is extremely high efficiency for very, very fine dust, sticky dust and hazardous dust (because of its high efficiency); and Nomex for high-temp or fire hazard materials because it won't burn (300-500 degrees). Loading: medium to heavy.
After-Filters. After-filters are used after a cyclone separator. The bag is inflated by air pressure and collects material on the inside.The most common media is cotton sateen, an inexpensive media widely used as a solution for wood dust. Loading: light.
Pleated Panel Filters.Pleated panel filters are inexpensive filters that are widely-used across many ambient air cleaning applications, from hospitals to welding shops, and the media ranges in efficiency up to MERV 15. Most pleated filters have high efficiency, high dust-holding capacity, and low pressure drop. Loading: light, but the heaviest end of the light ambient dust application spectrum.
Bulk Rolls of Polyester and Spun Glass Filters. Polyester and spun glass filters are generally the least efficient filters (usually MERV 7) for very light, ambient loads, but they require the least pressure drop and thus work well with light-duty fans. Polyester / spun glass filters are commonly used in industrial applications as pre-filters for air cleaners and ambient mist collectors. They are very good for any kind of lint, paper dust, or stringy material, because they are very open with a high permeability. By taking out larger particles, these pre-filters extend the lives of the higher efficiency and more expensive main filters.
Activated Carbon / Permanganate Filters. Activated carbon and permanganate are used to control odor and to capture volatile organic compounds (VOCs). Examples of applications: use of adhesives, low usage of solvents (chemicals, touch-up paint), or vapors produced in the manufacture of injection-molded products. This filter material generally absorbs chemicals up to 30% of its weight.
Aluminum Mesh / Metal Screen Filters. These filters have two primary uses: to capture grease splatter in kitchen ventilation hoods and to provide a spark arrestor / pre-filter for many types of collectors, including booths, downdraft tables, air cleaners, mist collectors, and portable bag collectors for welding and grinding.
95% and 99.97% HEPA Filters. These are the very highest efficiency filters, often referred to as absolute filters, used as after-filters or safety filters for hazardous materials, primarily hazardous metal fume or dust, including lead, cadmium, beryllium, arsenic, mercury, hexavalent chromium, and cobalt. Typical applications include soldering, grinding, paint removal, welding of stainless steel, and tool sharpening.
Brands of Filters
Your ICAN supplier will be happy to assist you with replacement filters for most brands* of industrial dust collectors or air cleaners, including the following. If you need a replacement filter for any other brand of industrial collector, please ask; your supplier may be able to help.

Airflow Systems
Aercology
Airex
Air King
American Air Filter (AAF)
Austin Air
Carter/Day
DCE
Dust Hog
Farr
Filter 1
Honeywell
Industrial Maid
Micro Air
Murphy-Rodgers
Plymovent
Smog Hog
Smokeeter
Sternvent
Torit/Donaldson
United Air Specialists
Trion

*All names are trademarked by their respective owners.
The Industrial Clean Air Network exists to help industries and commercial interests throughout North America find local access to quality air services. ICAN™ Distributors sell, install, and service dust collectors, air cleaners, mist units, fume extractors, vehicle exhaust systems, and other industrial ventilation products. Each ICAN™ member is an independent distributor who represents various manufacturers, offers personal service, and individually guarantees air quality satisfaction to every customer. ICAN™ Distributors provide industrial air filtration equipment throughout the contiguous United States, Canada, and Mexico.