Portable Dust Collectors
ICAN™ Project Photos: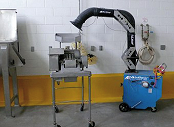 Portable dust collector collects dust from food sifter.
Dual arm portable air cleaner collects welding smoke.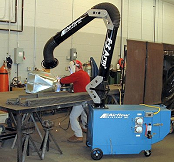 Portable collects stainless steel welding smoke.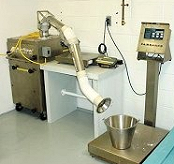 Portable air cleaner for pharmaceutical dust collection.
Portable air cleaner captures EDM smoke.
Portable air cleaner collects soldering fumes.
Application photos are used by permission of members of the Industrial Clean Air Network and are copyrighted by their respective owners. All rights reserved.
Every member distributor of the Industrial Clean Air Network offers a complete selection of portable dust collectors and portable air cleaners. Please ask your regional supplier about the product lines offered.
Even if a specific product is not available, your supplier may still be able to assist you with the needed service, or provide a comparable or even upgraded system.
Uses of Portable Dust Collectors
Source Capture Wherever It is Needed. Portable dust collectors and portable air cleaners are self-contained air filtration units on wheels for easy movement throughout the shop. The portable collector is a compactly designed system complete with one or more extractor arms and a filtration compartment. Portables are available in a range of models, with one or more cartridge filters, or disposable media filters. Portable collectors constructed of stainless steel provide durable performance for the food processing, pharmaceutical, and chemical industries.
Types of contaminants collected by portable dust collectors include welding smoke, wood dust, composites, cement, dry powders, sand, plastic dust, food dust, and toner. Portable air cleaners are also effective in source capture of machining mist.
Industrial processes that benefit from the use of portable air filtration units include grinding, sanding, welding or soldering, blasting, foundry, metal fabrication, powder coating, metalizing, graphite machining and mixing. Portable collectors provide source capture in diverse facilities such as woodworking in industrial and school shops, tool rooms, maintenance facilities, food processing facilities, and pharmaceutical labs.
Advantages of Portable Dust Collectors
No Installation Required. Most portable dust collectors are shipped ready to plug in and run, with no assembly or installation necessary.
Versatility and Flexibility. Portable collectors effectively capture a wide range of contaminants, from fine powders to medium sized particulate in light to heavy loads. With adjustable positioning of one or more integral arms and mobility of the collector, a portable air cleaner can provide source capture to multiple workstations on the shop floor. With various filter options, a portable unit can be tailored to the specific needs of the application.
Compact Dust Collection System. With its small footprint and ease of serving the intermittent needs of workstations throughout the industrial shop or plant, the portable collector conserves space and when not in use is easily moved out of the way.
Easy Maintenance. Portable dust collectors with cartridge filters have self-cleaning systems which deliver the dust to a dust drawer or tray for easy disposal, and the portable air cleaners equipped with multi-stage disposable filters are easily and quickly accessed for filter replacement.
What to Look For In a Portable Dust Collector
Effective Performance: Filters that are large enough, efficient enough and that clean well. The fan should be located on the clean air side of the filter.
Stability & Maneuverability: A low center of gravity so that the collector is not prone to tipping, and sufficient diameter and weight of casters for easy movement of the collector within the available floor space.
Sufficient Capture Velocity for the Application: Portable air filtration units typically range from 450 CFM to 1600 CFM, depending on the size of the unit and number of extractor arms. (Portable collectors with one, two, or three arms are readily available.)
Reach / Range: Sufficient length of arms (typically from 4' up to 14' standard) and ample length in power cord (up to 25').
Flexible but Stable Arms: The arms of the portable dust collector should be easy to position and fix in place without proneness to sag.
The Industrial Clean Air Network exists to help industries and commercial interests throughout North America find local access to quality air services. ICAN™ Distributors sell, install, and service dust collectors, air cleaners, mist units, fume extractors, vehicle exhaust systems, and other industrial ventilation products. Each ICAN™ member is an independent distributor who represents various manufacturers, offers personal service, and individually guarantees air quality satisfaction to every customer. ICAN™ Distributors provide industrial air filtration equipment throughout the contiguous United States, Canada, and Mexico.