Energy Saving Controls
ICAN™ Project Photos: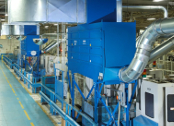 Ventilation controls provide energy efficiency for mist collection system.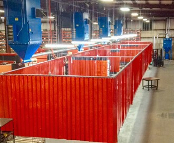 Automated air filtration system for metal dust and weld fume.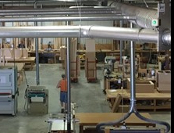 Wood dust collection system equipped with energy savings controls.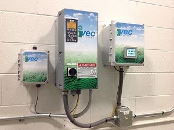 Control panels for maximizing energy efficiency.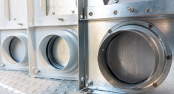 Slide-gates open/close airflow to workstations as needed.
Application photos are used by permission of members of the Industrial Clean Air Network and are copyrighted by their respective owners. All rights reserved.
Whether you would like to integrate automated energy controls and/or system monitoring in a new industrial ventilation system, or you need to retrofit your existing dust or mist collection system with automated controls and monitoring, your regional supplier can help. Every member distributor offers free on-site evaluations to determine how automated energy controls and system monitoring can improve your efficiency.
Even if a specific product is not available, your supplier may still be able to assist you with the needed service, or provide a comparable or even upgraded system.
Automated Energy Controls for Industrial Ventilation Systems
Advantages of Automated Energy Controls. Equipping industrial ventilation systems with automated energy controls can optimize performance by:
Preventing wasted energy. By automatically managing air flow on demand, the system uses no more than the required energy, thereby maximizing efficiency and reducing operating costs.
Building in flexibility. The industrial ventilation system may be expanded or its configuration easily changed due to having the capacity to adapt the air volume as needed.
Reducing the cost of upgrades. Maximizing the capacity of the existing ventilation system can eliminate the need for having to install a new, higher-capacity collector, thereby avoiding unnecessary capital costs and production shut-down costs.
Providing quieter operation. Running the system blower at no more than the required speed reduces overall noise levels.
Industrial Ventilation Systems that can benefit from automated energy controls include dust collection systems, mist collection systems, air filtration systems, and exhaust systems. An automated energy control system is recommended for most industrial ventilation equipment, new or existing.
Primary Components of automated energy controls for industrial ventilation include the following:
The Variable Frequency Drive is the heart of the system, allowing the fan to run at slower speeds when a lower volume of air is required, i.e., when not all work stations are in use. Also the Variable Frequency Drive can compensate for changes in filter pressure drop, providing consistent performance without wasting energy.
Powered Slide-Gate Dampers shut off workstations when not in use, reducing air flow and preventing energy waste.
The Pressure Transducer tells the Variable Frequency Drive when the pressure is where it needs to be, or when the fan needs to go faster or slower to maintain the pressure.
Workstation Proximity Sensors provide for automatic control of the slide-gates, opening when the operator is present in the station, or closing when the workstation is not in use.
Automated energy controls may be integrated into a new industrial ventilation system or retrofitted to most existing systems. In addition, automated energy controls may be integrated together with automated system monitoring and management.
Automated Monitoring and Management of Industrial Ventilation Systems
Advantages of Automated Industrial Ventilation Monitoring / Management. As with automated energy controls, automated monitoring and management can help provide optimal performance by:
Optimizing airflow to the filter. Monitoring filter pressure drop and adjusting airflow as needed.
Preventing clogged filters. Activating automatic filter cleaning when needed.
Providing bottom-line operational efficiency. Maximizing filter and airflow efficiency means extending filter life and reducing overall operating and maintenance costs.
Issuing automatic alerts. With automated monitoring of system performance and energy consumption, the system generates alerts, such as full bin, time for filter change-out, or potential problems to check and/or trouble-shoot.
Enabling remote access. Monitoring, activation, or shut-down may be done on remote computers or mobile devices.
Industrial Ventilation Systems that can benefit from automated monitoring and management include dust collection systems, mist collection systems, air filtration systems, and exhaust systems.
The Industrial Clean Air Network exists to help industries and commercial interests throughout North America find local access to quality air services. ICAN™ Distributors sell, install, and service dust collectors, air cleaners, mist units, fume extractors, vehicle exhaust systems, and other industrial ventilation products. Each ICAN™ member is an independent distributor who represents various manufacturers, offers personal service, and individually guarantees air quality satisfaction to every customer. ICAN™ Distributors provide industrial air filtration equipment throughout the contiguous United States, Canada, and Mexico.