Containment Booths
ICAN™ Project Photos:
Dust booth controls composite/steel grinding dust.
Environmental control booth for mining soil test lab.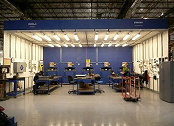 Wet dust collection booth removes titanium dust.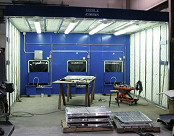 Wet dust booth collects aluminum dust.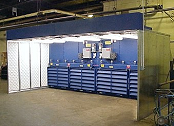 Containment booth for fiberglass dust.
Application photos are used by permission of members of the Industrial Clean Air Network and are copyrighted by their respective owners. All rights reserved.
Every member distributor of the Industrial Clean Air Network offers a complete selection of containment booths. Please ask your regional supplier about the product lines offered.
Even if a specific product is not available, your supplier may still be able to assist you with the needed service, or provide a comparable or even upgraded system.
Uses of Dust Control Booths
Double Protection of the Shop Environment. Dust collection booths provide the dual benefit of both containing the contaminants within the booth and removing them from the worker breathing zones; also called environmental control booths, dust booths prevent airborne dust and fume from migrating throughout the plant facility, while at the same time capturing, collecting, and filtering the particulate within the booth. Dust booths provide effective source capture for extra-large parts and multi-task operations.
Types of dust collected by cartridge filter dust booths include fine to medium particulate (as well as fumes and smoke) from wood, metal, composites, plastics, fiberglass, dry powder, cement, and toner. Panel filter dust control booths offer flexible multi-stage filter systems that can be specifically configured to collect dust, smoke, fume and mist from various materials, including wood, plastic, metal, fiberglass, hexavalent chromates, lead, beryllium, and composites. Panel filter booths are especially suited for light to moderate dust loads, ranging from light, continuous operations to heavy, intermittent applications. Wet-type dust collection booths are designed to safely collect fine particles of aluminum, titanium, and other potentially explosive or combustible dust.
Industrial processes that benefit from the use of dust booths include sanding, grinding, woodworking, buffing, chipping, air arcing, cutting, mixing, polishing, powder coating and welding. In addition panel filter dust booths can be configured also for metalworking and painting applications.
Advantages of Dust Control Booths
Provides Complete Freedom of Movement. Because the collector pulls in dust through a grille that extends the full width of the booth, workers can freely perform tasks throughout the workspace, sitting or standing.
Contains Contaminants Within the Enclosed Work Area. Dust control booths prevent dust, smoke, fumes and mist from migrating throughout the shop and adjacent work areas.
Available in Many Sizes and Filter Choices. Dust collection booths range in size from small, single stations for close hand work to extra-large sizes accommodating large parts and / or multi-task operations. Filter options include disposable pleated panel filters, heavy-duty self-cleaning cartridge filters, wet-type collectors for potentially combustible or explosive dust, and optional HEPA and carbon after-filters.
Energy Savings. Dust booths recirculate clean, tempered air back into the shop, and thus save on costs of heating and cooling. (See our DustSpot Energy Savings Calculator to estimate annual energy savings for re-circulating filtered air.)
May Be Equipped With Re-gain Air System. Capture velocity is enhanced by recirculating a portion of the clean, filtered air from the top front of the booth, thus "pushing" the contaminants toward the grille, where the collector simultaneously "pulls" the dirty air in.

The Industrial Clean Air Network exists to help industries and commercial interests throughout North America find local access to quality air services. ICAN™ Distributors sell, install, and service dust collectors, air cleaners, mist units, fume extractors, vehicle exhaust systems, and other industrial ventilation products. Each ICAN™ member is an independent distributor who represents various manufacturers, offers personal service, and individually guarantees air quality satisfaction to every customer. ICAN™ Distributors provide industrial air filtration equipment throughout the contiguous United States, Canada, and Mexico.