Baghouse Dust Collectors
ICAN™ Project Photos: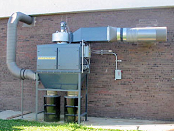 Shaker-style baghouse collects wood dust.
Baghouse dust collector removes wood dust.
Baghouse collector is collecting wood dust.
Baghouse collector handles wood & MDF dust.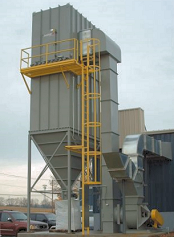 Baghouse collector is collecting ceramic dust.
Baghouse collects plastic dust from silos.
Application photos are used by permission of members of the Industrial Clean Air Network and are copyrighted by their respective owners. All rights reserved.
Every member distributor of the Industrial Clean Air Network offers a complete selection of industrial dust collectors. Please ask your regional supplier about the product lines offered.
Even if a specific product is not available, your supplier may still be able to assist you with the needed service, or provide a comparable or even upgraded system.
Uses of Baghouse Dust Collectors
Reliable Performance for Tough Dust Loads. Baghouse dust collectors are well-suited for heavy dust-loading operations involving fine to medium dust, including hard-to-handle particulates, such as curly, sticky, or abrasive dust.
Types of dust collected by baghouse dust collectors include fine to moderate-sized particles of wood or metal shavings, plastics, grain, chemicals, hydroscopic dust, or paper shreds.
Industrial processes that benefit from the use of baghouse dust collectors include sanding, grinding, planing, bailing, processing, blasting, and cutting, in applications such as woodworking, cement production, grain industries, chemicals and food processing.
Advantages of Baghouse Dust Collectors
Continuous Operation Keeps Up With the Most Demanding Jobs. With conservative air-to-cloth ratios (low filter velocity), bag collectors with effective automatic filter cleaning -- and especially those with online filter cleaning -- can handle extremely heavy loading of dust with minimal or no interruptions or downtime for maintenance required during the work shift.
Consistent, High-Efficiency Performance. With effective, online cleaning while the blower is running, bag collectors maintain a constant air flow for consistent filtration performance, even with heavy loading.
Broad Range of Sizes and CFM to Fit the Application. Bag house dust collectors are available with up to 100,000 CFM for handling even the largest exhaust air volumes.

How a Bag Filter Works

There are two basic bag filter designs. The most popular is the reverse pulse style. This design is configured with the tube sheet (i.e., the divider between clean and dirty air) high in the filter box, with the sock bags fitted over wire "cages" to prevent collapse during normal air flow. The bags are cleaned with a blast (pulse) of compressed air that is introduced above the bag opening. The dust that is collected on the outside of the bag is pushed off as the bag "inflates" and the dust falls into the dust receptacle.

The second design is called a shaker-style baghouse. The tubesheet is low and the bags are mounted "open end down" in this design. The normal flow of air inflates the bags and the dust collects inside rather than on the outside of the filter bag. In this design, the flow must be interrupted to clean the filters. The bags are hung from a frame in the top of the box, and the frame is vibrated (shaken) to loosen the dust, causing it to fall into the receptacle below.

The Industrial Clean Air Network exists to help industries and commercial interests throughout North America find local access to quality air services. ICAN™ Distributors sell, install, and service dust collectors, air cleaners, mist units, fume extractors, vehicle exhaust systems, and other industrial ventilation products. Each ICAN™ member is an independent distributor who represents various manufacturers, offers personal service, and individually guarantees air quality satisfaction to every customer. ICAN™ Distributors provide industrial air filtration equipment throughout the contiguous United States, Canada, and Mexico.