Hose Drops
ICAN™ Project Photos: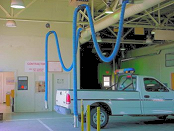 Vehicle exhaust hose drops for a motor pool repair facility.
Hose drops for road maintenance vehicle repair shop.
Hose drops for diesel truck exhaust in training school.
Application photos are used by permission of members of the Industrial Clean Air Network and are copyrighted by their respective owners. All rights reserved.
Every member distributor of the Industrial Clean Air Network offers a complete selection of vehicle exhaust removal systems. Please ask your regional supplier about the product lines offered.
Even if a specific product is not available, your supplier may still be able to assist you with the needed service, or provide a comparable or even upgraded system.
Uses of Vehicle Exhaust Hose Drops
Easy-to-Use Exhaust Removal System. A hose drop typically combines durable, high-temperature hose with a tailpipe connector, a blower, mounting bracket, and a spring-loaded / retractable balancer. Connectors are designed to seal quickly and easily to the tailpipe. Single and dual hose systems are available to service one or two vehicle service bays. Boom arms are also available to extend the reach of the hose drop to reach multiple bays or heavy equipment.
Industrial facilities that can benefit from the use of vehicle exhaust hose drops include auto and truck maintenance centers, repair shops, heavy equipment maintenance, and vehicle testing labs.
Advantages of Vehicle Exhaust Hose Drops
Direct Source Capture. Connecting exhaust hose directly to the tailpipe allows all the fumes to be exhausted out of the building in order to meet the OSHA permissible exposure limit that is only 50 ppm.
Affordability. Hose drops provide cost-effective vehicle exhaust removal for any size shop.
Simple Operation. Hoses are accessible and easy to attach, and the balancer facilitates easy maneuvering.

The Industrial Clean Air Network exists to help industries and commercial interests throughout North America find local access to quality air services. ICAN™ Distributors sell, install, and service dust collectors, air cleaners, mist units, fume extractors, vehicle exhaust systems, and other industrial ventilation products. Each ICAN™ member is an independent distributor who represents various manufacturers, offers personal service, and individually guarantees air quality satisfaction to every customer. ICAN™ Distributors provide industrial air filtration equipment throughout the contiguous United States, Canada, and Mexico.