Mist Collectors
ICAN™ Project Photos: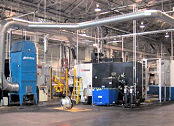 Mist collector collects CNC mist/smoke.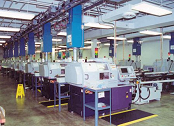 Mist collectors mounted on machining centers.
Mist collectors for stamping presses.
Portable mist unit collects surface grinding mist/dust.
Application photos are used by permission of members of the Industrial Clean Air Network and are copyrighted by their respective owners. All rights reserved.
Every member distributor of the Industrial Clean Air Network offers a complete selection of oil mist collectors as well as water-based coolant mist collectors. Please ask your regional supplier about the product lines offered.
Even if a specific product is not available, your supplier may still be able to assist you with the needed service, or provide a comparable or even upgraded system.
Uses of Mist Collectors
Maximizing the Work Environment in the Machine Shop. Mist collectors remove coolant mist and smoke at the source to improve the in-plant air quality in order to promote employee health, enhance worker comfort, protect the moisture-sensitive electronic circuitry of plant equipment, and reduce shop maintenance.
Types of contaminants collected by mist collectors include both oil-based and water-soluble mists, as well as smoke and grinding dust.
Industrial processes that benefit from the use of mist collectors include wet grinding, stamping, cold forging, roll mill, wire drawing, machining centers, screw machines, surface and centerless grinders, CNC, turning lathes, and parts cleaning systems.
Advantages of Mist Collectors
Optimal ambient air quality. By extracting oil and water based mist, mist collectors provide health and comfort to the workers and assure compliance with OSHA Standards.
Versatility. Collectors may be mounted directly to the machine tool, or central collectors may be ducted to multiple machining work stations.
Continuous Operation With Low Maintenance. With a long-filter life of up to two years, mist collectors normally require minimal downtime.
Cost Savings High energy efficiency mist collectors assure maximum cost efficiency, and coolant recovery can provide additional savings.

The Industrial Clean Air Network exists to help industries and commercial interests throughout North America find local access to quality air services. ICAN™ Distributors sell, install, and service dust collectors, air cleaners, mist collectors, fume extractors, vehicle exhaust systems, and other industrial ventilation products. Each ICAN™ member is an independent distributor who represents various manufacturers, offers personal service, and individually guarantees air quality satisfaction to every customer. ICAN™ Distributors provide industrial air filtration equipment throughout the contiguous United States, Canada, and Mexico.