High Vacuum Systems
ICAN™ Project Photos:
Industrial vacuum collects welding smoke.
High vacuum system collects paper dust.
Industrial vacuum for cement dust.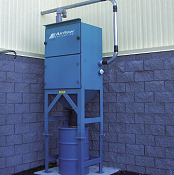 High vacuum system collects fiberglass dust.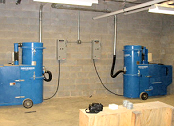 Portable vacuum units for automotive detailing.
Vacuum system for auto body repair shop.
Application photos are used by permission of members of the Industrial Clean Air Network and are copyrighted by their respective owners. All rights reserved.
Every member distributor of the Industrial Clean Air Network offers a complete selection of industrial vacuum systems. Please ask your regional supplier about the product lines offered.
Even if a specific product is not available, your supplier may still be able to assist you with the needed service, or provide a comparable or even upgraded system.
Uses of High Vacuum Systems
High-Powered Extraction of Contaminants. Industrial vacuum systems offer durable and low-maintenance performance with excellent efficiency. Typically source capture hoods are fitted to hand tools to remove dust immediately at the point of operation. Central systems provide simultaneous and continuous operation for multiple tasks. In addition, both central high vacuum dust collectors and portable industrial vacuums can provide general cleanup as well as detailed and specialized cleaning.
Types of contaminants collected by high vacuum systems include welding and grinding dust, smoke and fume, soldering smoke and fume, fiberglass dust, composite dust, cement and paper dust.
Industrial processes that benefit from the use of industrial vacuum systems include auto repair, auto detailing, welding, soldering, finish grinding, sanding, cutting, and foundry.
Advantages of High Vacuum Systems
Powerful and durable performance. Whether the industrial vacuum system is used for source capture connected to a hand tool or for detailing or cleanup, high vacuum provides the capture velocity and reliability to remove wet or dry contaminants effectively.
Continuous duty with low maintenance. High vacuum systems are typically designed with continuous-duty blowers and require minimal maintenance. High vacuum dust collectors equipped with self-cleaning cartridge filters provide easy removal of the collected dust.
Many fittings and accessories. Whether extraction hoods connected to hand tools for immediate source capture, or attachments for general cleanup, fittings are readily available and may also be custom fitted when needed.
The Industrial Clean Air Network exists to help industries and commercial interests throughout North America find local access to quality air services. ICAN™ Distributors sell, install, and service dust collectors, air cleaners, mist units, fume extractors, vehicle exhaust systems, and other industrial ventilation products. Each ICAN™ member is an independent distributor who represents various manufacturers, offers personal service, and individually guarantees air quality satisfaction to every customer. ICAN™ Distributors provide industrial air filtration equipment throughout the contiguous United States, Canada, and Mexico.