Extractor Arms
ICAN™ Project Photos: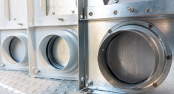 Slide-gates open/close airflow to workstations as needed.
Stainless steel extractor arm for dust from bag dumping.
Extractor arms collect oil mist /smoke from machining.
Fume extractor arm with boom for welding.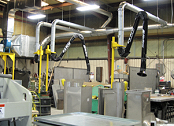 Extractor arms collect galvanized welding fumes.
Application photos are used by permission of members of the Industrial Clean Air Network and are copyrighted by their respective owners. All rights reserved.
Every member distributor of the Industrial Clean Air Network offers a complete selection of fume extractor and dust collection arms. Please ask your regional supplier about the product lines offered.
Even if a specific product is not available, your supplier may still be able to assist you with the needed service, or provide a comparable or even upgraded system.
Uses of Extractor Arms
Targeted Extraction of Fume, Dust, Smoke & Mist. When it comes to source capture, extraction arms are often the ideal way to remove concentrated amounts of smoke, fume and dust generated from industrial welding, soldering or grinding. Extractor arms are also commonly called fume arms, fume extractors, collection arms, or even elephant trunks. By removing the contaminants immediately away from the operation, arms enhance worker comfort and vision and prevent dust and smoke from migrating throughout the room. Extractor arms are available in a range of hose diameters and inlet hood sizes to provide solutions for a variety of tasks.
Types of contaminants collected by extractor arms include welding and soldering smoke, dust, fumes, mist, composite dust, fiberglass dust, marble dust, plastic dust, and food dust.
Industrial processes that benefit from the use of extractor arms include welding, soldering, grinding, cutting, blending and mixing operations, packaging, brazing, machining, electronics manufacturing, chemical labs, and pharmaceutical labs.
Advantages of Extractor Arms
Versatility. May be bench or ceiling mounted and ducted to an exhaust blower or integrated with a completed filtration system.
Positioning for Various Tasks. Arms are easily adjustable for each worker to capture dust or fume at the source.
Compact. Extractor arms can fit into available workspace and be folded out of the way when not in use.
What to Look For In an Extractor Arm
Positioning: Staying well in place, but also easily adjusted when needed; wide range of rotation.
Durable Construction: Hose and inlet hood resistant to abrasion and corrosion.
Adaptability: Can be retrofitted into existing systems or facilities and practical to re-install if needed.
Clear Path: Hose and ductwork unobstructed by hardware or joints, preventing trapping of contaminants.
Stainless Steel Construction: For applications such as chemical labs or food processing.

The Industrial Clean Air Network exists to help industries and commercial interests throughout North America find local access to quality air services. ICAN™ Distributors sell, install, and service dust collectors, air cleaners, mist collectors, fume extractors, vehicle exhaust systems, and other industrial ventilation products. Each ICAN™ member is an independent distributor who represents various manufacturers, offers personal service, and individually guarantees air quality satisfaction to every customer. ICAN™ Distributors provide industrial air filtration equipment throughout the contiguous United States, Canada, and Mexico.