Cyclone Separators
ICAN™ Project Photos:
Cyclone separator collects wood dust.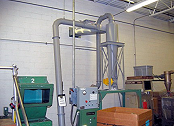 Cyclone separator collects plastic grinding dust.
Cyclone separator removes aluminum cutting dust.
Cyclone dust collector is collecting wood dust.
Cyclone collects dust from buffing operations.
Cyclone separator collects steel dust from cutting.
Application photos are used by permission of members of the Industrial Clean Air Network and are copyrighted by their respective owners. All rights reserved.
Every member distributor of the Industrial Clean Air Network offers a complete selection of industrial dust collectors. Please ask your regional supplier about the product lines offered.
Even if a specific product is not available, your supplier may still be able to assist you with the needed service, or provide a comparable or even upgraded system.
Uses of Cyclone Dust Collectors
Heavy-Duty Performance. The cyclone separator, or cyclone dust collector, is particularly suited for collecting heavy dust loads of moderate-sized to large particles (larger than 20 microns).
Types of dust collected by cyclone dust collectors include coarse particles or chips of wood, metal, plastics, composites, and paper.
Industrial processes that benefit from the use of cyclone separators include woodworking, machining, metal grinding, bailing, conveying, trimming, abrasive cutting, scrap metal processing, material handling, product recovery, dry chemical processing, and high-temperature processes. A cyclone separator may also be used as a pre-filter for high-efficiency dust collectors (such as cartridge collectors and baghouses) by separating out the larger particles for a more efficient filtration of the finer dust.
Advantages of Cyclone Dust Collectors
Reliable, low-maintenance operation. Cyclone separators have no moving or replaceable parts.
Heavy-duty performance. Effective handling of coarse particles and chips, as well as heavy dust loads.
High-temperature capability.
Excellent pre-filter performance. As a pre-filter, a cyclone dust collector separates out the coarser particles and thus increases the effectiveness and filter life for collection of the finer dust in a high-efficiency dust collector.

The Industrial Clean Air Network exists to help industries and commercial interests throughout North America find local access to quality air services. ICAN™ Distributors sell, install, and service dust collectors, air cleaners, mist units, fume extractors, vehicle exhaust systems, and other industrial ventilation products. Each ICAN™ member is an independent distributor who represents various manufacturers, offers personal service, and individually guarantees air quality satisfaction to every customer. ICAN™ Distributors provide industrial air filtration equipment throughout the contiguous United States, Canada, and Mexico.