Cartridge Dust Collectors
ICAN™ Project Photos:
Cartridge dust collector removes cast iron dust.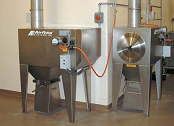 Stainless steel collectors are used for food processing.
Cartridge collector removes welding smoke.
Cartridge collectors collect grain and seed dust.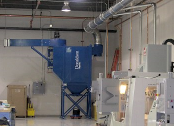 Cartridge collector captures ceramic dust.
Cartridge dust collector collects steel dust.
Cartridge dust collector removes wood dust.
Application photos are used by permission of members of the Industrial Clean Air Network and are copyrighted by their respective owners. All rights reserved.
Every member distributor of the Industrial Clean Air Network offers a complete selection of industrial dust collectors. Please ask your regional supplier about the product lines offered.
Even if a specific product is not available, your supplier may still be able to assist you with the needed service, or provide a comparable or even upgraded system.
Uses of Cartridge Dust Collectors
Multi-Purpose Dust Collection. The cartridge dust collector is the most versatile dust collector for industrial purposes. It is available in sizes from a one-cartridge unit for in-shop use, to more than a hundred cartridges in an externally mounted central dust collector. Designed for reliable performance and easy maintenance, cartridge collectors provide cost-effective dust and fume collection across the industry spectrum. They are excellent for filtering fine to medium dust, smoke, and fume from operations generating various amounts of dust -- from light to heavy loads.
Types of dust collected by cartridge dust collectors include wood dust, composites, cement, dry powder, chemical and pharmaceutical dust, sand, plastic, fiberglass, metals, high-static dust, blasting media, welding smoke, and toner.
Industrial processes that benefit from the use of cartridge collectors include grinding, sanding, welding or soldering, blasting, foundry, metal fabrication, powder coating, metalizing, cutting, deburring, chemical processing, food processing, pharmaceutical manufacturing, plasma arc cutting, printing, trimming, and mixing.
Advantages of Cartridge Dust Collectors
Large-capacity, long-life filters. With deep-pleated, cylindrical composition, cartridge filters accommodate large loads of dust, generous square feet of media to volume and excellent air-to-cloth ratios. Meeting a broad range of industrial needs, cartridges are available with many types of filter media, including the popular fire-retardant polyester/natural fiber blend with polypropylene laminate, as well as spun bond polyester, phenolic or PTFE coated, high-temperature rated, and metal impregnated blends.
Low-maintenance, self-cleaning filter systems. Durable cartridge filters may be cleaned with automatic, high-pressure air cleaning, or even impact cleaning with flexible internal rappers, both utilizing the collectors' integral compressed air system. Cleaning may be online or initiated upon shut-down, but in either case delivers the dust directly to a bin or hopper for disposal, resulting in low maintenance operation and minimal downtime.
Consistent, high-efficiency performance from start-up. High quality, film-laminated cartridge filters can provide initial filtration efficiency higher than 97% and, with effective self-cleaning systems, can maintain up to 99.9% efficiency over the life of the filter.
Versatile -- many sizes / types of collectors. The excellent performance of self-cleaning cartridge filters is available in large central dust collectors, portable units, downdraft tables, and dust collection booths. In addition, cartridge collectors are also offered in all-stainless-steel construction for needs such as the food processing, pharmaceutical, and chemical industries. Many distributors of cartridge dust collectors also provide custom engineering capability to meet specialized needs.
Additional Energy Savings From Indoor Collectors. Cartridge dust collectors installed inside the shop recirculate clean, tempered air back into the shop, saving on costs of heating and cooling. (See our DustSpot Energy Savings Calculator to estimate annual energy savings for re-circulating filtered air.)
What to Look For In a Cartridge Dust Collector
Positioning of the Filters -- Vertical or Horizontal? Some dust collectors have the cartridge filters sitting vertically, while others have their filters arranged horizontally. There is no perfect orientation to the filters, but each filter orientation has its distinct advantages, particularly in the larger collectors.

The primary strength of the vertically-oriented cartridge is that the dust tends to load evenly and clean thoroughly, and the entire surface area of the filter is utilized continually. Since no one part of the filter is prone to clog, the filter performs fairly predictably and durably, with a good rate of filter life.

Horizontal cartridges can be stacked to allow the collector to be more compact overall. Also, dust collectors with horizontally-oriented cartridges are generally easier to access for changing out the filters. The compactness and filter accessibility can make the horizontal cartridge collectors particularly attractive for use within industrial facilities where space economy is important. For example, a horizontal cartridge dust collector can hold 48 cartridges (4 high, 6 wide, and 2 deep) and provide 35,000 CFM with a footprint of only 10x6 sq. ft.

The potential disadvantage of horizontally-oriented cartridges is that they can be more prone to become clogged on top. Furthermore, dust dislodged during the cleaning cycle can fall out of one cartridge right to the top of the cartridge below. The good news is that there are horizontal dust collector designs that address this top-loading issue very well through one or more of three approaches: baffling that prevents most of the dust from falling directly onto the top of the cartridges; cartridge pleat geometry that accommodates a generous amount of dust, but also resists clogging (see Cartridge Geometry below), and high velocity impact (rapper) cleaning, to assure thorough dislodging of the dust during the cleaning cycle.

Note that smaller cartridge collectors and portable dust collectors can easily be constructed for both compactness and effective filter performance, whether the filter is positioned vertically or horizontally.

If space is available, large, multi-cartridge collectors with vertical cartridges will generally provide effective filtration for most industrial applications. On the other hand, industries can gain the advantages of units with horizontally-oriented cartridges (compactness and easy accessibility to the filters) by selecting collectors with effective baffling, wide-pleat cartridges, and/or a rapper cleaning system.

Cartridge Geometry: Pleat Openings Must Be Of Sufficient Width. Cartridge filters should not be measured strictly by air-to-cloth ratios, but in how many units of dust they can hold in the pleat openings. Tightly spaced pleats may certainly increase total surface area of the media, but at the same time pleat openings may be so narrow that they restrict air flow and are prone to become blocked and bridged with tightly packed dust that resists dislodging during the cleaning process. If the filters become clogged, operating efficiency and filter life are significantly reduced.

The ideal cartridge geometry provides a generous volume of space in the outer pleats for the dust to collect, with pleat gaps large enough to allow flow of air into the pleat and dislodging of dust out of the pleat when cleaning. Many filters have too many pleats for achieving optimum performance and long filter life. In general, pleats should be no closer than 1/8 inch for the finest particulate (including smoke), and 1/4 inch is even better. For example, a 13-inch diameter filter should have no more than 250 pleats. When cartridge filters are used for wood chips or irregularly shaped dust particles (i.e., curly, sticky, or abrasive particles) the pleats should be even wider -- 1/4 to 1/2 inch, (and the media should be spunbond polyester, due to its high permeability and sturdiness).

Filter Cleaning: Should It Be Online or Offline? There are two primary reasons that offline cleaning of the cartridges can be advantageous: first, it allows use of the compressed air when it is not being needed for anything else, thus limiting the total requirement of available compressed air; second, offline cleaning allows the dust that is dislodged from the filters to fall straight to the bin or drum rather than its being stirred up and re-entrained, thus maximizing the efficiency of the dust collector.

However, if the collector is collecting more than 1 lb of dust per filter during an 8-hour period, the filters probably need to be cleaned online, so that there is a continuous process to keep up with the dust collection needs. Online cleaning can be very effective as long as the filters have ample pleat openings, allowing dust to be easily dislodged, and the can velocity (rate of air flow within the collector) is not too high to allow the dust to settle.

Dust-Holding Capacity. Is the receptacle for the collected dust large enough for the dust collection needs? The bigger the drawer, drum, or bin, the less often it has to be emptied.

Fan Performance. If the fan fails, nothing else works! Cartridge filters are high-efficiency filters, and the tighter the filters, the more fan pressure they require. The fan needs to provide sufficient velocity to insure reliable performance for the material being collected. The heavier and coarser the dust is, the higher the duct velocity must be and thus the higher the fan pressure that is required. For the more demanding applications, backward-inclined, direct-drive blowers will provide efficient, durable performance.

The fan should be located on the discharge (or clean) side of the collector rather than the inlet (dirty) side, for three reasons: first, the dust collector won't leak dust when it is under negative pressure; second, if the contaminant goes through the fan, it wears the fan; and third, particles will inevitably stick to the blades of the fan, causing an imbalance and ultimately the failure of the bearings.
The Industrial Clean Air Network exists to help industries and commercial interests throughout North America find local access to quality air services. ICAN™ Distributors sell, install, and service dust collectors, air cleaners, mist units, fume extractors, vehicle exhaust systems, and other industrial ventilation products. Each ICAN™ member is an independent distributor who represents various manufacturers, offers personal service, and individually guarantees air quality satisfaction to every customer. ICAN™ Distributors provide industrial air filtration equipment throughout the contiguous United States, Canada, and Mexico.